Semaphor
Encrypted group chat & file sharing for your organization.
Increase organizational security & decrease email. Your new workplace hub for productivity, communication & collaboration. Mobile & desktop with offline mode. Replace FTP. Highly scalable & LDAP ready.
"All content (including file attachments) is end-to-end encrypted so that even SpiderOak can't read it."
Motherboard
"If an attacker were to gain access to every corner of SpiderOak's corporate systems, it wouldn't let them read the conversations of the firm's customers. If you want to enjoy the benefits of collaboration apps and don't want to give up on your privacy, you might want to consider (Semaphor)."
The Daily Dot
"Slack, Hipchat and other collaboration tools are the cool kids these days. And while they do a lot well...there's something missing that can cost you your business. Privacy."
Inc
"Use Semaphor for collaboration. Semaphor allows teams of users to share files and create private chat rooms that are encrypted individually."
Reveal, for The Center for Investigative Reporting
A new, secure workplace.
Leading organizations are abandoning the vulnerabilities and inefficiencies of email, and moving to group chat and collaboration tools in the cloud to improve workplace productivity.
But Semaphor offers something that other collaboration tools can't. The highest level of security with No Knowledge, end-to-end encryption. You can even review the source code.
It's a beautiful thing: security and usability in one solution. Semaphor gives your enterprise:
Deployability - easily set up thousands of machines in an afternoon
Scalability as needed
Onsite training & tier 1 support (assisted deployment optional)
HIPAA / FINRA / FERPA compliance
Mobile & desktop access for Mac, Linux, Windows, iOS & Android
The ability to deploy on-premise for added control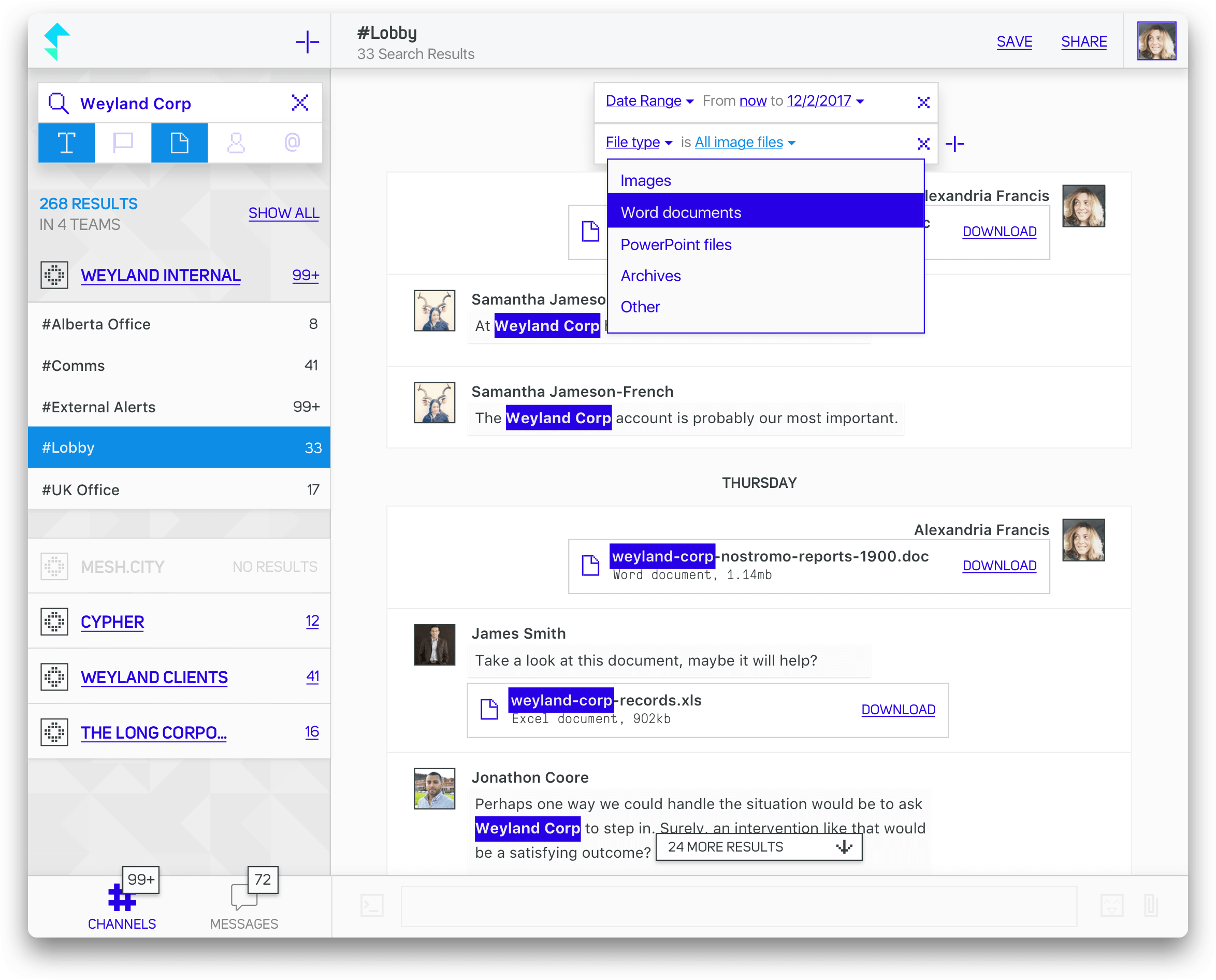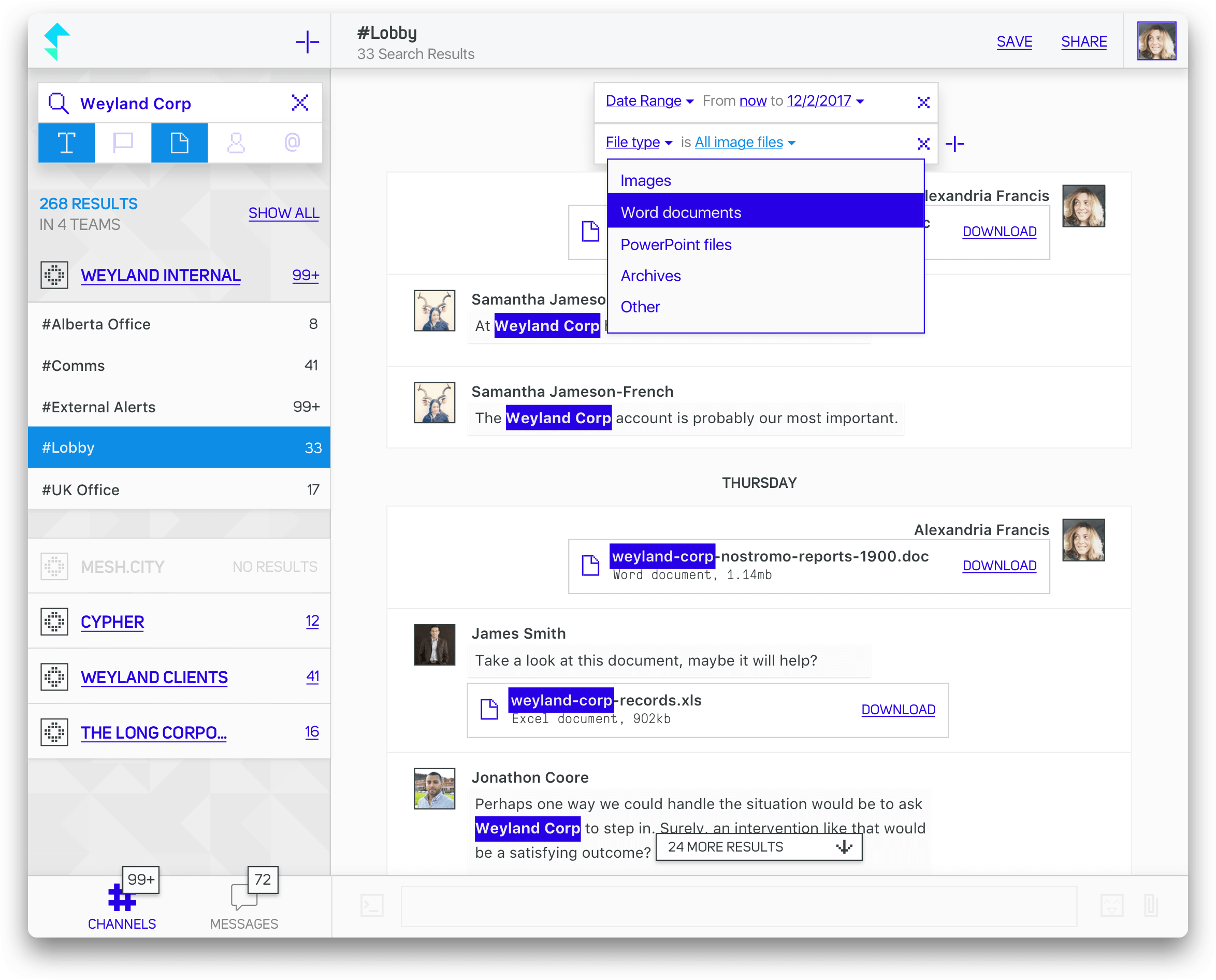 Features that matter to your company.
In a BYOD environment, employees want convenience, the IT staff wants greater control, and management wants to minimize risk and increase security. Semaphor meets all of these needs with cross platform and mobile support, beautiful design, end-to-end encryption, and secure file transfer capability.
Eliminate threat vectors like email and FTP in favor of the higher efficiency and security Semaphor provides.
Want to see how we stack up against our enterprise group chat competitors? View the feature and security checklist we put together:
Integrations & Bots Enrich your Experience.
Semaphor allows secure integration with third party services through Bots. Developers, system administrators, marketing, sales, and customer support can receive essential notifications within Semaphor, without ever allowing data from within the application to leak out.
Take the python wrapper from our Github page and create any bot you'd like. We've made our own Twitter Bot, Command Bot, Wolfram Alpha Bot, Nagios Bot, and more.
Always-available offline mode
Multi-file upload support & concurrent downloads
Available for desktop & mobile
Manage team permissions & domains
Create public teams & auto-accept join requests
Join with email address or a username
30-day message history for free accounts
Unlimited message history for Pro teams
Supports bots & integrations
Cultivate trust with trusted contacts
Large file support, up to 2 GB
Enable & disable linked devices
HIPAA / FINRA / FIRPA compliant
Get started with Semaphor today, for free.